Step 1: Under the Manage Tab, click Manage Learners.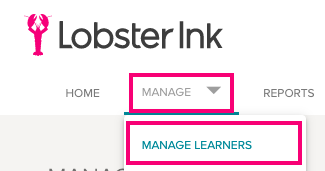 Step 2: On the Manage Learners page, navigate to the learner group you would like to invite a learner to and click on the vertical ellipses (⋮). A pop-up menu will appear - select Invite Learners

Step 3: Add the email address of the learner and click Invite Learner. Once you have invited the learners, an email notification will be sent to them to sign up and join the team. There is also an option to invite another learner at the same time by clicking Add Another Invitation.


Note: You have the option to assign a learner as a Manager to give them Manager permissions. You may also assign a manager Additional permissions so that they can invite, move or remove learners, as well as add more managers to the workspace.