This report gives you a view, per learner, of the number of courses assigned, and what the status is of the assigned courses.
In this report, we consider only assigned courses and exclude any courses a learner has self-assigned (also known as self-started).
This report helps to understand how learners are doing on their assigned training and can support an action like rewarding compliance to required training, or motivating managers to drive required training with their learners if they are falling behind.
This report is accessible through the menu under: → Assignments Progress → Learner Reports → Learner Progress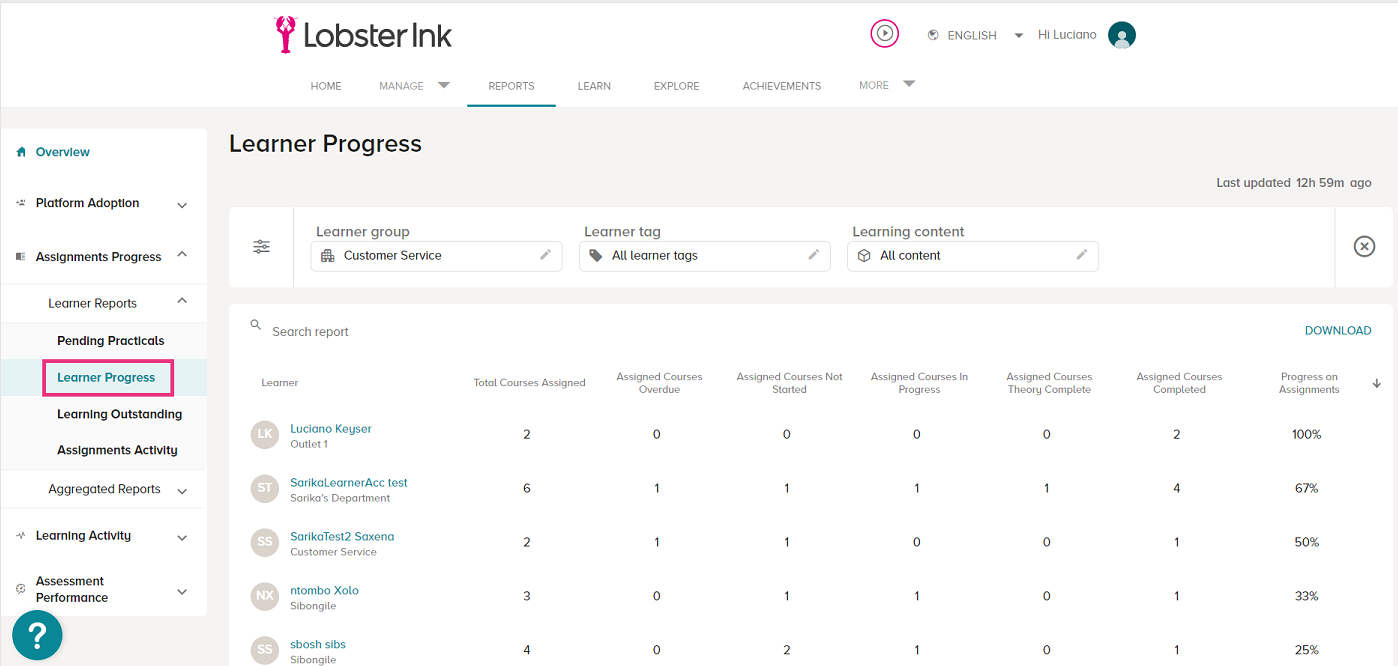 Attributes & Measures in this report
Total Assigned Courses
Assigned Courses Overdue: applicable if the assignment has a deadline
Assigned Courses Not Started
Assigned Courses In Progress
Assigned Courses Theory Complete: for these courses, the practical assessment is pending
Assigned Courses Completed
Progress on Assignments: the ratio of assigned course completions to assigned courses
How can this report help me?
This report covers all courses assigned to a learner, and what status the assigned courses are (overdue, not started, etc.).
This can be used to understand if learners are progressing through their assigned learning or if they are falling behind. By navigating to their Learner Details page by clicking on the learner, you can view more specific progress per Course or Learning Path assigned.
You can sort the columns to identify the top learners in terms of compliance to assigned learning, and those that might need some additional motivation.
In the below example, highlighted from left to right:
1) We would want to urgently discuss finalizing their overdue course. In this case, the assignment would have a deadline, so it would be important to finish this course as soon as possible.
2) These users have not yet started many of their assigned courses. During a 1:1 or team meeting, we could implore users to focus on and progress through their assigned learning.
3) In this case one learner is progressing very well through their assigned courses with other peers lagging. It would be prudent to discuss this with them, or ensure we are setting aside enough time for learners to become compliant with the required training.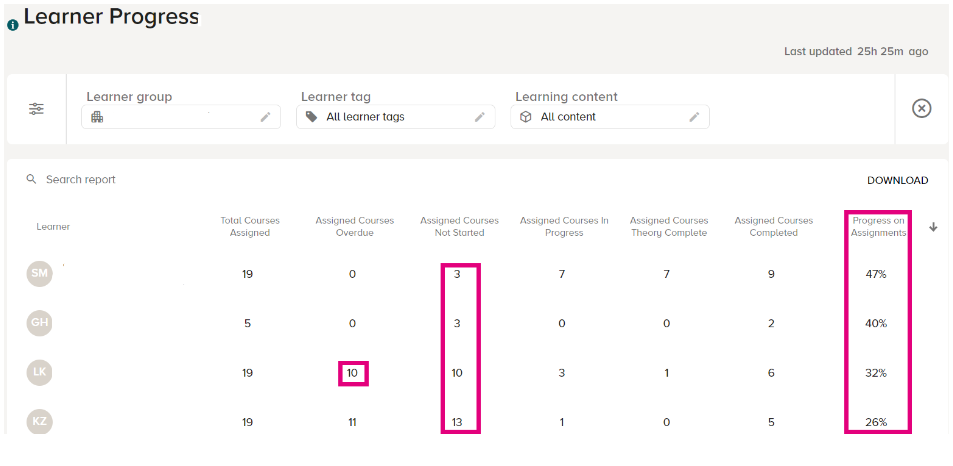 How can I filter this report to see only what I want?
By using the filters you can update and change the report as needed.
Using the Learner Group filter you can determine the group you want to view the learners for.
Using the Learner Tag filter you can generate the report for only those learners with a certain job role. This is helpful when comparing learners within specific jobs.
Using the Learning Content filter you can filter the report to show only activity on a specific course.

How do I view a learner's current activity and history details?
By clicking on a learner you are taken to their learner detail page.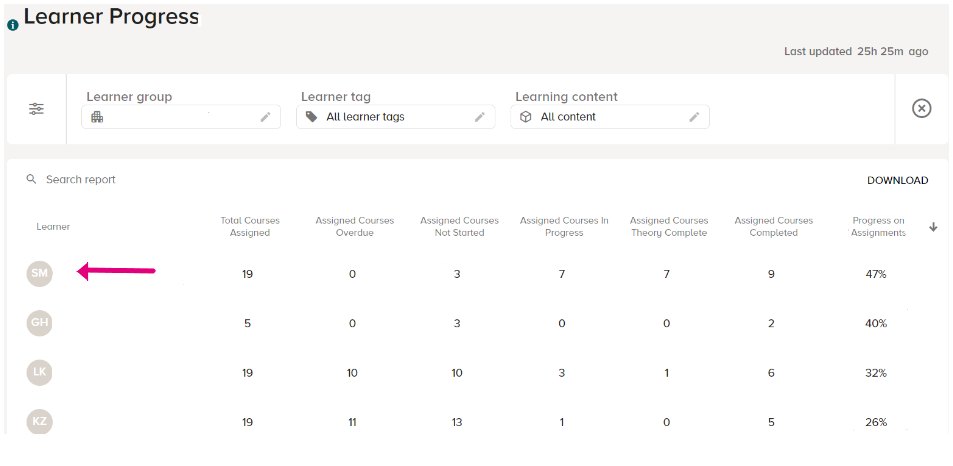 Here you can track their current assigned and in-progress Courses and Learning Paths.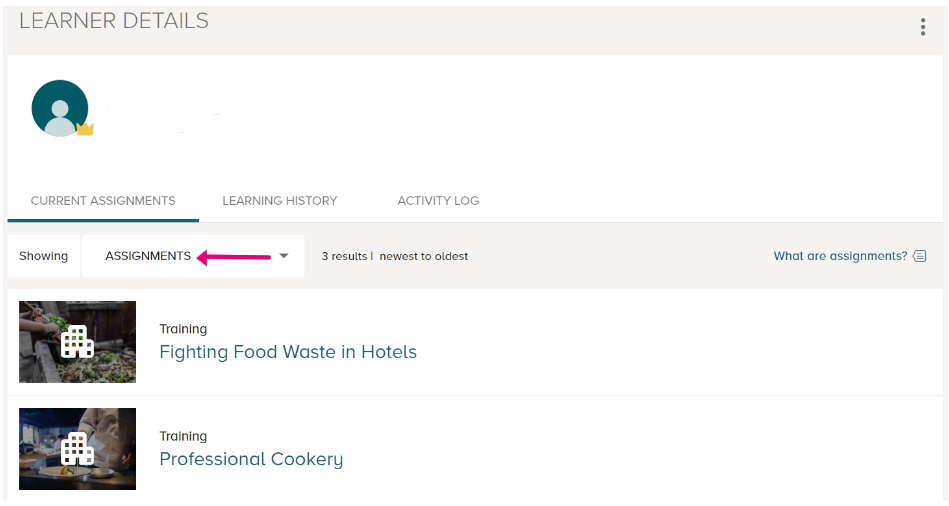 You can filter their content on Assigned and Self-Assigned (also known as Self-Started). By selecting 'Assignments' you filter out anything a learner has started on their own. Selecting 'view progress' on any Course or Learning Path helps to better understand where the learner is in terms of progress.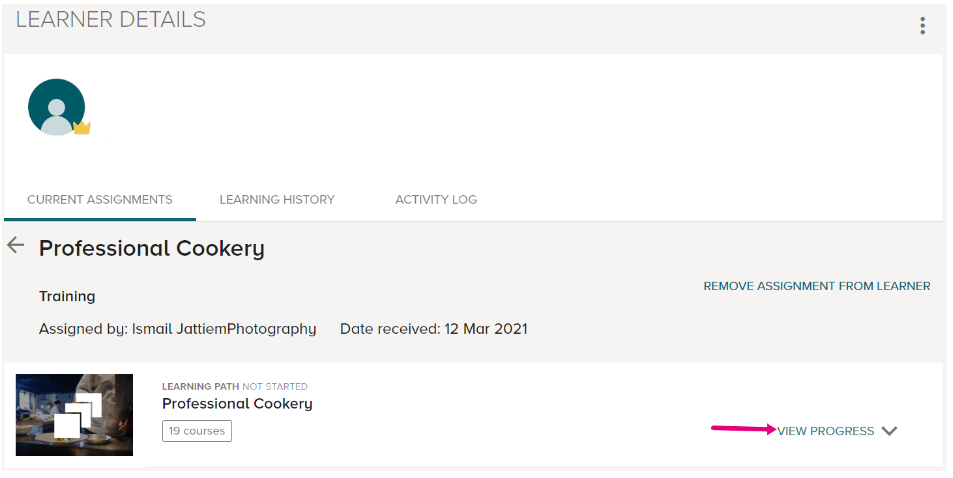 By selecting Learning History you can view everything a learner has already completed and the medals they have achieved.